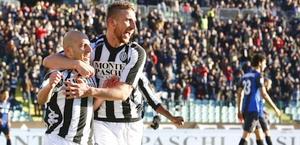 Governor of the Bank of Italy, Ignazio Visco,
speaking at a conference
in Bergamo and revealing details of a central bank loan to the scandal-plagued Monte dei Paschi di Siena (MPS) --
Si tratta di un prestito, computabile nel patrimonio di vigilanza, concesso dallo Stato a un costo particolarmente elevato e crescente nel tempo. L'intervento è stato deciso l'estate scorsa per consentire a MPS di adempiere alla raccomandazione dell'Autorità bancaria europea di costituire un buffer patrimoniale eccezionale e temporaneo, ben oltre i requisiti minimi regolamentari, per far fronte ai rischi derivanti dall'ingente portafoglio di titoli pubblici.
Paraphrased, the European Bank Authority said that the bank was subject to high risks because of its large portfolio of Italian government bonds, so the solution was boost its capital via a loan from the Italian government.
So because of the risks of being tied so closely to the government, it had to be tied even more closely to the government.
Photo: AC Siena, sponsored by MPS, at
last week's victory
over Inter Milan.