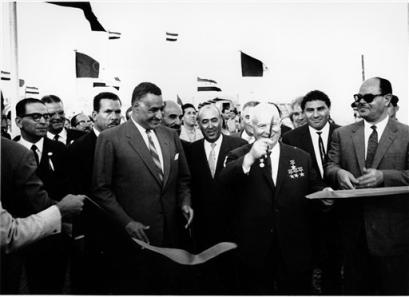 Reuters
--
Egypt's armed forces will hold joint military exercises with their Russian counterparts on Egyptian soil for the first time from Oct. 15-26, Cairo's military spokesman said on Wednesday. Days ago Egypt backed a Russian resolution in the U.N. Security Council on Syria that removed the demand for an end to air strikes on Aleppo stipulated in an alternative French resolution. ... The joint military training will include drills between Egyptian and Russian paratrooper units in the northwestern region of el-Alamein, Egyptian military spokesman Brigadier General Mohamed Samir said in a statement posted on the Egyptian military's official Facebook page.
Above, Nasser and Khruschev
cutting the ribbon
at the Aswan Dam in 1964.
It seems that the Obama administration view is that since Russia is a declining regional power, nothing bad is likely to happen when it forms closer alliances with large Arab countries. Three years after the above photo, Israel redrew its borders, aided in part by Egypt's misreading of its own relationship with the USSR.